Canadian Imperial Bank of Commerce (CIBC)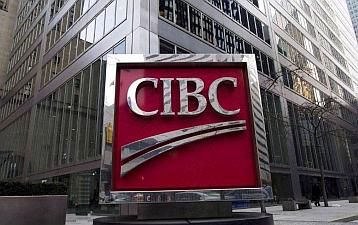 CIBC HQ, Toronto
Canadian Imperial Bank of Commerce (CIBC), established in 1867, is one of the leading financial institutions in Canada with more than 44,000 employees and over 10 million customers worldwide including the United States, the UK, the Caribbean, Asia and Europe. The Bank has approximately 1,020 domestic branches (banking centres) and 3,070 ATMs, and operates through the following business lines: Canadian Personal & Business Banking, Canadian Commercial Banking & Private Wealth Management, U.S. Commercial Banking & Private Wealth, and Capital Markets. CIBC was the first major Canadian bank to offer a mobile cash management App for iPhone and BlackBerry smartphones. Canadian Imperial Bank of Commerce was named one of the five Safest Banks in North America along with RBC, TD Bank, Scotiabank and Bank of Montreal, according to Global Finance. As of April 30, 2020, the company reported total assets of C$759 billion, deposits of C$544 billion, loans of C$421 billion and common shareholders' equity of C$37.2 billion. Assets under management (AUM) and assets under administration (AUA) were C$249 billion and C$2.3 trillion, respectively. The company's shares are traded on the Toronto Stock Exchange (TSX) and the New York Stock Exchange (NYSE) with a market capitalization of US$31 billion as at June 19, 2020.
CIBC common dividends
The Board of Directors declared a dividend of $1.46 per share on common shares for the quarter ending July 31, 2020, payable on July 28, 2020 to shareholders of record at the close of business on June 29, 2020.
CIBC Credit Ratings
(Long-term/Sort-term/Outlook)
Moody's: A2/P-1/Stable
Fitch: AA-/F1+/Negative
Standard & Poor's: BBB+/A-1/Stable
DBRS: AA (Low)/ R-1 (high) /Stable
CIBC Awards
One of the 50 Most Engaged Workplaces in North America
Highest in Customer Satisfaction among Mobile Credit Card Apps in Canada
One of Canada's Best 50 Corporate Citizens
Top overall score in mobile banking functionality and user experience
One of Canada's Best Diversity Employers
One of Canada's Top Employers for Young People
Best Treasury and Cash Management Bank by Global Finance
Recognized for inclusive leadership (Bloomberg Gender-Equality Index)
Head office address:
Commerce Court, 199 Bay Street
Toronto, Ontario
M5L 1A2, Canada
Telephone: +1 416 980 2211
CIBC Telephone Banking: 1-800-465-2422
Mobile banking support: 1-877-433-1902
CIBC Credit Card Services: 1-800-465-4653
Website: www.cibc.com
King and Wellington Banking Centre
CIBC Branch with ATM
355 Wellington Street, Unit 177
London, ON N6A3N7, Canada
Tel: (519) 661-8000
Toll Free 1-800-465-2422
Fax: (519) 661-8045
U.S. Region Headquarters:
120 South LaSalle Street
Chicago, Illinois 60603
United States
Telephone: 312-564-2000
Opening Hours: Monday - Friday, 8:30 am - 5:00 pm
Saturday, Sunday - Closed
CIBC World Markets
150 Cheapside,
London EC2V 6ET
United Kingdom
Phone number: +44 20 7234 6000