The Bank of Nova Scotia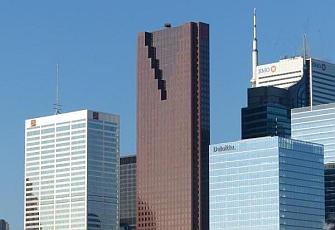 Scotiabank HQ
The Bank of Nova Scotia (known as Scotiabank), headquartered in Toronto, is the third largest bank in Canada by total assets, deposits and market capitalization. It serves more than 24 million customers worldwide and is Canada's most international bank with about 3,050 branches and 9,000 ATMs (of which 950 branches and 3,650 ATMs in Canada) and 100,000 employees in 55 countries. The company offers chequing and savings accounts, low interest and no annual fee credit cards, student accounts and student cards, lines of credit, mortgages, personal and auto loans, investment and insurance products, small business and corporate banking; telephone, mobile and online banking, and much more. The Bank's key business segments are Canadian Banking, Global Banking & Markets, Global Wealth Management and International Banking. International Banking is focused on Mexico, Chile, Peru and Colombia, and the Caribbean and Central America region. The company was recently named Bank of the Year in Latin America and the Caribbean by LatinFinance. Scotiabank is also the tenth largest foreign banking institution in the United States by assets. It is a member of the Global ATM Alliance, a joint venture of several major international banks including Bank of America, BNP Paribas, Barclays, Deutsche Bank, and Westpac. Scotiabank was named the third Safest Bank in North America 2019 after Royal Bank of Canada and TD Bank according to Global Finance. At January 31, 2020, The Bank of Nova Scotia reported total assets of C$1,154 billion, total deposits of C$764 billion, personal loans of C$96.7 billion, business and government loans of C$214 billion, and residential mortgages of C$269 billion. The company's shares are traded on the Toronto Stock Exchange (TSX) and the New York Stock Exchange (NYSE) with a market capitalization of US$51 billion as of June 19, 2020.
Key Facts
| | |
| --- | --- |
| Total Revenue | C$31.034 billion (2019) |
| Net income | C$8.798 billion (2019) |
| Total assets | C$1.154 trillion (01/2020) |
| Shareholders' Equity | C$69.861 billion (01/2020) |
| Total Deposits | C$763.9 billion (01/2020) |
| Total net loans | C$592.3 billion (01/2020) |
| Total Assets under management (AUM) | C$297.1 billion (01/2020) |
| Total Assets under administration (AUA) | C$553.9 billion (01/2020) |
| Number of employees | 99,742 (01/2020) |
| CEO and President | Brian J. Porter |
Legacy Senior Debt Credit Ratings:
Moody's: Aa2
Fitch: AA-
DBRS: AA
Standard & Poor's:A+
Head office address:
Scotia Plaza
44 King Street West
Toronto, Ontario
M5H 1H1, Canada
Telephone: +1-416-866-6161
Website: www.scotiabank.com
Scotiabank U.S. Locations
Scotiabank's offices in the U.S. do not provide retail banking services.
New York
250 Vesey Street
23rd & 24th floors
New York, NY 10281
United States
Phone number: 1 212 225 5000
Fax: 1 212 225 5090
Houston
711 Louisiana Street
Suite 1400
Houston, TX 77002
United States
Tel: 1 713 752 0900
New Orleans (Scotia Howard Weil)
1100 Poydras Street
Suite 3500 Energy Centre
New Orleans, LA 70163
United States
Tel: 1 504 582 2500
Scotia Wealth Management
Address: 201 S Biscayne Blvd
Suite 1320, Miami, Forida 33131
United States