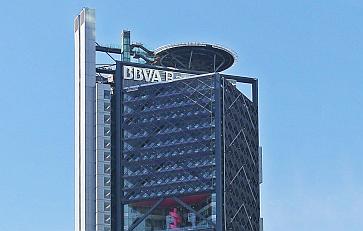 Torre BBVA Bancomer in Mexico City
BBVA Bancomer, S.A. (or BBVA Mexico) is the largest bank in Mexico with more than 11 million customers, 1,860 branch locations (sucursales) and 13,170 Cajeros Automáticos (ATMs). BBVA Mexico is the principal subsidiary of Grupo Financiero BBVA Bancomer S.A. de C.V. The company provides a comprehensive range of products and services in all 32 states of Mexico. It offers deposits, credit and debit cards, personal and auto loans, mortgages, business loans, life insurance, home and auto insurance, pension products, investments, payment services, asset management, mutual funds, remittance transfers, mobile and online banking and more. As of December 31, 2019, BBVA Mexico reported total assets of MX$2.363 trillion (US$125 billion), loans of MX$1.218 trillion (US$65 billion), deposits of MX$1.268 trillion (US$67 billion) and net income of MX$49.254 billion (US$2.6 billion). The company was established in 1932 under the name Banco de Comercio and today employs approximately 37,000 people and operates as a subsidiary of Spanish giant BBVA (Banco Bilbao Vizcaya Argentaria). The Bank's headquarters is located in Torre BBVA Bancomer in Mexico City. The company received the award as Best Digital Bank in Mexico 2019 granted by World Finance magazine. Eduardo Osuna is Vice President and Chief Executive Officer (CEO) of Banco BBVA Bancomer.
In June 2019, BBVA Bancomer was renamed BBVA Mexico.
Grupo Financiero BBVA Bancomer (GFBB) subsidiaries:
BBVA Mexico
Seguros BBVA Bancomer, S.A. de C.V.
Casa de Bolsa BBVA Bancomer, S.A. de C.V.
Pensiones BBVA Bancomer, S.A. de C.V.
BBVA Bancomer Seguros Salud, S.A. de C.V.
BBVA Bancomer Gestión, S.A. de C.V.
Head office address:
Paseo de la Reforma Avenue 510
Colonia Juarez
Cuauhtémoc City Hall
Ciudad de México (CDMX)
DF 06600 Mexico
Telefono:
Web site: www.bbva.mx