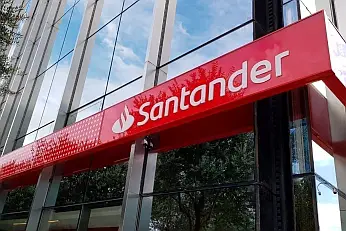 Santander Mexico headquarters
Banco Santander Mexico S.A. (BMV: SANMEX, NYSE: BSMX) is the fourth largest bank in Mexico in terms of total assets. With 16.7 million customers, it employs approximately 20,500 people and maintains 1,430 branches and 8,300 ATMs across the nation. The company offers a diverse range of products and services including savings and checking accounts, time deposits, personal and auto loans, mortgages, low rate credit cards, debit cards, insurance and pension solutions, leasing, investments, cash management, trade finance, advisory services, mutual funds, mobile banking (Santander movil), online banking (Santander en linea) and other services to retail and corporate customers. As of September 30, 2019, Santander Mexico reported MX$1.461 trillion (US$74 billion) in total assets, MX$697 billion (US$35.4 billion) in loans, MX$684 billion (US$34.7 billion) in deposits and MX$140 billion (US$7.1 billion) in stockholders' equity. The company was established in 1932 under the name Banco Mexicano and today operates in all the states of the Mexican Republic. Banco Santander Mexico S.A. operates as a subsidiary of Banco Santander España, one of the largest financial institutions in the world. Hector Grisi Checa is Chairman and Chief Executive Officer (CEO) of Santander México. The company's shares are traded on the Mexican Stock Exchange (Bolsa Mexicana de Valores) and the New York Stock Exchange under the ticker symbols SANMEX and BSMX (ADR), with a market capitalization of US$10 billion as of January 30, 2020.
The company's full name is Banco Santander Mexico, S.A., Institucion de Banca Multiple, Grupo Financiero Santander Mexico. The Bank's controlling shareholder is Grupo Financiero Santander México, S.A. de C.V.
Credit Ratings
(Long Term/Short Term)
Moody's: A3/P-2
Fitch Ratings: BBB+/F2
Head office address:
Avenida Prolongación
Paseo de la Reforma 500
Colonia Lomas de Santa Fe
Delegación Álvaro Obregón
Ciudad de México (CDMX)
DF 01219 Mexico
Telephone: +52 55 5257-8000
Website: santander.com.mx
Banco Santander S.A., New York Branch
45 E. 53rd Street
New York, NY 10022
United States